S Class Video
The Mercedes-Benz S Class is the pinnacle of chauffeur driven cars
The sleek, stylish and safe S-Class from Mercedes-Benz is top of its class in executive chauffeur hire.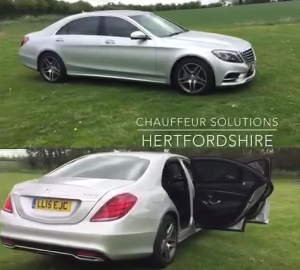 It sets the standard in first-class chauffeur driven luxury and prestige and this latest incarnation exceeds all expectations. Settle back and enjoy the sumptuous ride. A truly luxurious and stylish limousine for comfortable chauffeur-driven journeys. All have luxurious leather interior and most have Executive adjustable rear seating packages.
All vehicles have free Wifi, ambient lighting and rear climate control for your total comfort. Mercedes have produced a sumptuous, beautifully appointed interior as can be seen from the new video of our newest fleet member. Chauffeur driven passengers can enjoy a haven of peace and relaxation. The S Class is quiet, spacious, and extremely well-equipped with a wealth of technology to give our clients the smoothest ride imaginable.